Thornton is known for its dry, frigid winters, with temperatures dipping below 23°F on the coldest days of the season.
During these colder months, homeowners use more heat to stay warm, resulting in higher energy bills between November and March.
While heating your home is an absolute necessity, you don't have to crank up the heat 24 hours a day. You can warm up your home in a fraction of the time and save money on utilities. This tip is just one of many energy-saving hacks for winter.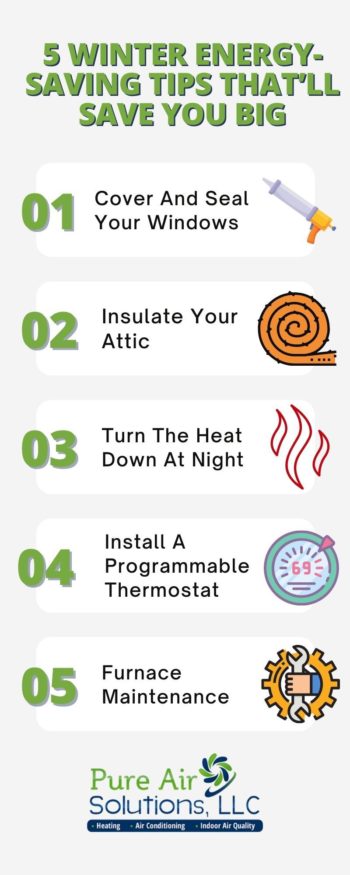 Here are five more winter energy-saving tips for homeowners.
1. Cover And Seal Window Your Windows
Do you feel a cold draft in your home? This sign means hot air is quickly escaping from your home.
A little draft may not seem like a big deal, but it causes your HVAC system to work overtime to keep your house warm. Overuse shortens the lifespan of your furnace and central heating system.
Luckily, you can prevent drafts by sealing and covering your windows. Many homeowners also use heavy thermal curtains to insulate the home better.
2. Insulate Your Attic
Insulation is instrumental to keeping energy bills low.
After sealing your windows, inspect the current insulation in your home, including your attic.
The best way to know if your attic is leaking warm air is to look at your roof outside after snowfall. If the snow is rapidly melting, that means hot air is leaking out of the roof.
3. Turn The Heat Down At Night
Do you really need to crank up the heat when you're warm and toasty in your bed? Probably not.
You can save 10% on annual utilities by simply turning down the thermostat by 10 degrees. This tip is also a good idea when you're running errands or out for the day.
Of course, always turn down the heat when you're out of town.
4. Install A Programmable Thermostat
The last point brings up a great question: what happens when you leave the heat running?
If you don't turn the car around, you would call a neighbor or wince at the next utility bill.
Instead, install a programmable thermostat that fires up (and shuts off) at scheduled times. There are also compatible WiFi smart thermostats that let you control heat settings from your phone.
5. Furnace Maintenance
Gas furnaces can last up to 20 years, but only with the right upkeep.
Often, homeowners don't notice furnace problems until it's too late. Pungent gas odors, buzzing and clanking sounds, and dropping temperatures (despite good insulation) means repairs are likely to follow.
Instead, prevent costly repairs before they arise with a consistent maintenance plan. Your plan comes with periodic tune-ups, reduced service call prices, and more perks to increase savings.
Remember These Winter Energy-Saving Tips
Don't wait until the coldest day of the year to start saving money. Plan ahead with these valuable winter energy-saving tips for Thornton.
Discover even more heating and cooling tips in our blog, or contact us today to book an installation or service call!