If you need a smart thermostat installation in Thornton, CO, then contact Pure Air Solutions, LLC. A smart WiFi thermostat grants you extra control over the temperature in your home. With your smartphone or device, you'll be able to control your thermostat and set the temp to however you like along with setting specific heating and cooling schedules.

You can also set the desired temp when you are away and return home to a cool or warm home. It allows you many customizability options ensuring you don't have to micromanage the thermostat ever again. Our team is ready to get your smart thermostat installed, so make sure to contact us today.
Local Thornton Team Who Can Handle Your Smart Thermostat Installation
A smart WiFi thermostat is a really good way to save money on your energy bill. Because you can program the thermostat to follow a specific schedule, you won't have to micromanage your heating and cooling. So the hot and cold peaks and valleys can be accounted for and will switch over when it's time. You won't have to worry about forgetting to turn the thermostat on or off, or manually raising it or lowering it in the morning or evening if you have a preferred temp at that time. The smart thermostat takes care of it, automatically.
If you are still unsure about a smart thermostat installation, then look at some of the benefits listed below:

It will automatically switch over to whatever temps you set
It will turn off and on when you set it to

Automatic scheduling saves money on your energy bill
It does a more efficient job by learning your home temp habits
Dependable Smart WiFi Thermostat Experts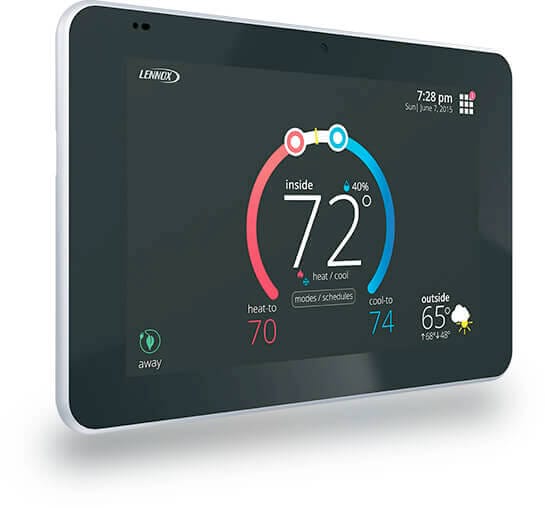 Pure Air Solutions, LLC has been helping the residents of Thornton for over twenty years with their HVAC needs. We can do your smart thermostat installation any time you want, and we'll help you learn all the settings and how to operate it. We have plenty of different options available and can help you select the unit you think would work best. When we're done, you'll be able to operate your smart WiFi thermostat like a champ, controlling your home temp however you want.
If you need a smart thermostat installation in Thornton, then contact Pure Air Solutions, LLC today. We offer the best in cutting-edge heating and cooling products and solutions.

We also offer smart thermostats in Broomfield and Henderson.