If you need a smart thermostat Installation in Broomfield, CO, then contact Pure Air Solutions, LLC for the best in town. A smart home thermostat has the prime advantage of allowing you more control over the temperature in your home. With a smartphone, you'll not only be able to control your thermostat but allow you to set an automatic schedule for your heating and cooling.

You can even set the temp to what you want while you're away and change it back to something more comfortable before you come home. With the options you have, micromanaging the thermostat will be a thing of the past. If you are looking to get a smart home thermostat for your home, then contact us right away.
Local Broomfield Providers of A Smart Thermostat Installation
Your smart home thermostat saves you money on our energy by allowing plenty of custom options for your home heating and cooling. You can set specific temperatures for heating and cooling for specific times of the day, accounting for the various dips and peaks on cold and hot days. This way, you'll be able to efficiently manage your home temperature through an automated schedule rather than through constant manual micromanaging. No more having to get up early in the morning to warm up the house or forgetting to turn off the cold air before you to sleep, you'll be able to set it all up in advance.
If you're still wondering about the benefits of a smart thermostat, then look below:

Program pre-set temps at pre-set times
Automatic scheduling gets rid of thermostat micromanaging

You can program it to turn off and on when you want
The unit learns your home temp habits so it can do a better job
Dependable Smart Home Thermostat Professionals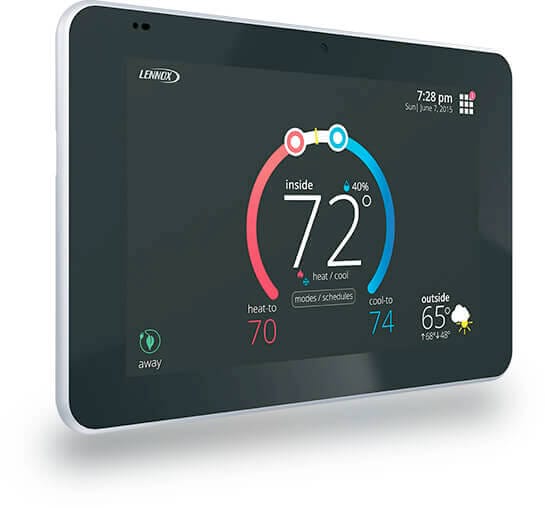 Pure Air Solutions, LLC has been a staple of Broomfield for over twenty years, providing the best in HVAC. Our team of technicians can be right over and get your smart thermostat installation in Broomfield done in no time. We can also help you go over the operation of the smart thermostat so you can be a pro in controlling your home heating and cooling. We always promise to be upfront and honest along with offering our products and assistance at an affordable price.

If you are interested in getting a smart thermostat in Broomfield that you can trust, then contact Pure Air Solutions, LLC. We also offer smart thermostats in Thornton and Henderson.