If you are looking for a smart thermostat in Henderson, CO, then make sure to contact Pure Air Solutions, LLC. A WiFi thermostat will allow you more control over the temperature in your home. With your smartphone or device, you can change your thermostat and set the temp however you like, and also set a specific heating and cooling schedule.

You can even have the desired temp set up when you're away, so when you get home it will be as cool or as warm as you want it to be. There are so many custom options available that you'll be able to put the days of micromanaging the thermostat to rest. If you are interested in getting a smart home thermostat for your home, then contact us today.
Local Henderson Experts Who Can Provide You With A Smart Thermostat
A WiFi thermostat will save you money on your energy bill due to the unit being able to switch to the desired temperature setting as you have scheduled it. If there are specific times of the day where you prefer a certain amount of heat or cooling, just schedule it and the unit will take care of the rest. You won't have to worry about turning the thermostat on or off, getting up early to turn the thermostat on to warm up the house, or forgetting to turn off the cold air before bed. This modern miracle will save you time and money in the long run.
If you are still unsure if a smart thermostat is right for you, then look at some of these benefits it provides:

It will switch to whatever temp you pre-set it to
Automatic scheduling will save you money over time

It will turn off and on as you schedule it
It learns your home temperature habits so it can do its job better
A Dependable WiFi Thermostat Team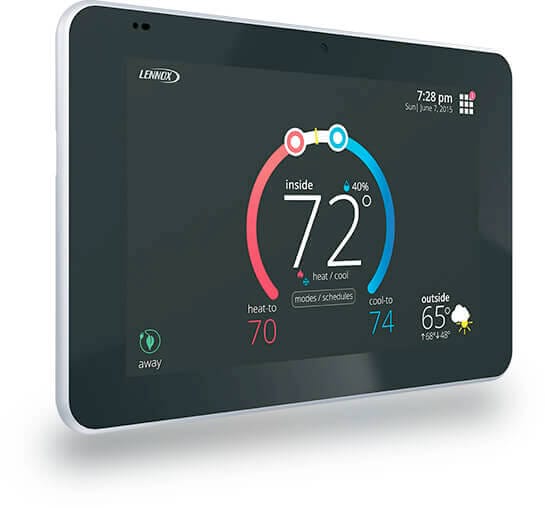 Pure Air Solutions, LLC has been assisting the people of Henderson with their HVAC issues for over twenty years. Our team can help you with your heating and cooling at any time and provide you with a smart thermostat. We have a plethora of different options for you to choose from, and we can help you find the thermostat that will work best for your home. We'll answer any questions you have and help you go over all the unit's features so you can be a home heating and cooling control expert.
If you are a resident looking to get a dependable smart thermostat in Henderson, then contact Pure Air Solutions, LLC.

We also provide smart thermostats in Thornton and Broomfield.