If you're like most homeowners, then you may not know much about your HVAC system and maybe making common HVAC mistakes. You know that it keeps you warm in the winter and cool during the summer, but you might not know that there are several ways you might be compromising your system's efficiency and shortening its lifespan. In today's post, we'll explain four common HVAC mistakes you might be making. If you need HVAC repairs, a tune-up, or would like to learn more about our heater and A/C installation services, then get in touch with us through this page to schedule a consultation. We look forward to speaking with you!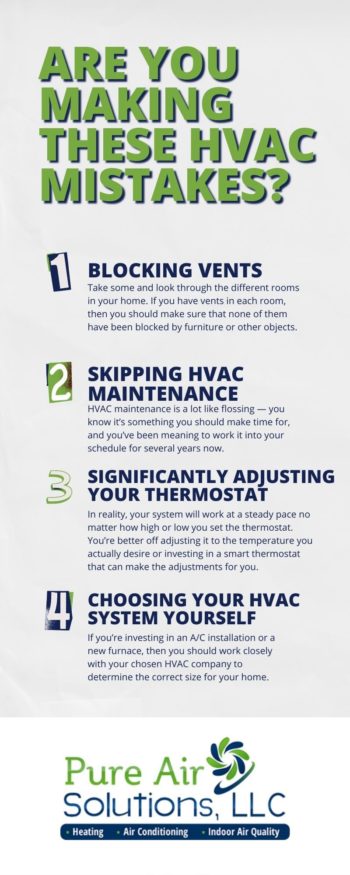 Blocking Vents
Take some and look through the different rooms in your home. If you have vents in each room, then you should make sure that none of them have been blocked by furniture or other objects. Many homeowners call our HVAC company because certain rooms in their homes are noticeably colder or warmer than others, and sometimes, the solution is as easy as unblocking a vent!
Skipping HVAC Maintenance
HVAC maintenance is a lot like flossing — you know it's something you should make time for, and you've been meaning to work it into your schedule for several years now. While we understand that it's easy to procrastinate when it comes to your home's heating and cooling system, investing in HVAC maintenance is significantly more affordable than paying for unexpected HVAC repairs. Check out our preventative maintenance program if you would like us to service your home at a discounted rate throughout the year!
Significantly Adjusting Your Thermostat
You've just walked into your home on a freezing day in January — what's the first thing you do? After taking off your shoes and unbuttoning your coat, you might head over to the thermostat and adjust the temperature by 10 to 15 degrees. Many people believe that setting a higher temperature means that the system will work harder, but in reality, your system will work at a steady pace no matter how high or low you set the thermostat. You're better off adjusting it to the temperature you actually desire or investing in a smart thermostat that can make the adjustments for you.
Choosing Your HVAC System Yourself
HVAC systems are not created equally. Many homeowners choose to buy their own A/C units with the belief that bigger is better in mind, but choosing a unit that's too big for your home can lead to unwelcome consequences. The cycling occurs when a unit turns on and off frequently, and it's one of the most common problems encountered by homeowners with incorrectly sized units. In addition to wasting a significant amount of energy, homeowners can expect to invest much more in HVAC maintenance and HVAC repairs to keep up with how hard the system is working. If you're investing in an A/C installation or a new furnace, then you should work closely with your chosen HVAC company to determine the correct size for your home.
We hope that today's post will help you avoid these common HVAC mistakes. Contact Pure Air Solutions, LLC for Top Rated Local® HVAC repairs in Denver, Thornton, and the surrounding areas!