If you are looking to get an AC duct cleaning in Broomfield, CO, then contact Pure Air Solutions, LLC right away. Our team can provide you with an expert HVAC duct cleaning that will remove all dust, and other debris and contaminants so your vents can work properly.

Having your ducts clogged makes it difficult for your HVAC to work as it should and can cause dust to blow around your home and give you a higher energy bill. You can also run the risk of a mold or vermin infestation in your ducts. In this case, make sure you get help to get it removed right away. If you want clear ducts that will allow you to breathe easily, then contact us ASAP.
Local AC Duct Cleaning Experts in Broomfield
It's important to have your ducts cleaned out every three to five years so dust and other crud doesn't over-accumulate and cause you problems. You should also have them cleaned out if your home has just been built or you've had a major home repair or renovation. You can count on our team to do a thorough run-down of your ducts and get them cleaned out so you can get back to enjoying your home air.
If you have noticed any of these issues, then contact us so we can get you an HVAC duct cleaning today:

Subpar airflow blowing from your vents
There's dust around your vents
There is mildew next to your HVAC unit
You are struggling with constant allergies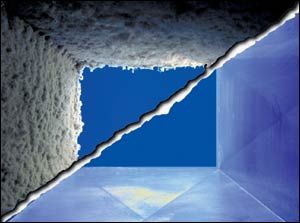 Experienced HVAC Duct Cleaning Professionals
Pure Air Solutions, LLC is proud to have assisted the residents of Broomfield for more than twenty years by making sure all their home comfort needs are covered. We arrive on time for our appointments with all the tools we need to get your ducts cleaned out. We are always comprehensive and will make sure the job is done in an appropriate time frame. We make sure nothing is left behind after we're done because we don't want any more issues to pop up afterward. We strive to gain your trust and satisfaction and we do that by always going above and beyond. Our goal is to be the home comfort team you can always rely on for any HVAC issues you have.
If you are a resident who needs a reliable AC duct cleaning in Broomfield, then contact Pure Air Solutions, LLC today!