If you need top-notch duct cleaning in Henderson, CO, then contact our professionals at Pure Air Solutions, LLC right now! We can provide you with expert air duct cleaning that can remove all the dust, debris, and contaminants that are sticking around and help your vents work as they should. When your ducts get clogged, your vents can blow around dust as well as leave you with a higher energy bill as your unit works harder to keep up.

There's also the risk of mold or vermin infesting your ducts. When that happens, make sure to contact an experienced team to get it removed. If you want to get your ducts cleared out, then contact us today.
Reliable Duct Cleaning Professionals in Henderson
Your ducts should be cleared out every three to five years as the dust and other debris can cause inefficient airflow during that time. In addition, if you have had a major home repair or renovation, or your house has just been built, then you should have your ducts cleaned out. Getting them cleaned out semi-regularly will allow them to work smoothly and avoid an increased energy bill. Our team can provide you with expert air duct assistance whenever you want so you can get back to enjoying dust-free home air.
If you have spotted any of the issues listed below, then contact us to schedule your air duct cleaning today:

Weak airflow blowing from your vents
You notice dust around your vents
You spot mildew next to your HVAC unit
You have constant allergies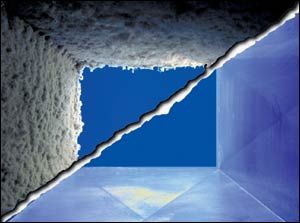 Local Air Duct Cleaning Experts You Can Trust
Pure Air Solutions, LLC has been around for twenty years helping Henderson residents with all their home comfort needs. We arrive at our appointments on time with everything we need to get your duct cleaning. We make sure nothing is overlooked and the job is done in an appropriate time frame. We make sure no dust is left behind so you can use your HVAC without worrying about dust or a higher energy bill afterward. We do the best job possible every time because we strive to gain your trust and satisfaction. We want to be the team you can count on for any home comfort issues you're facing.
If you are a resident who needs a reliable duct cleaning in Henderson, contact Pure Air Solutions, LLC now.